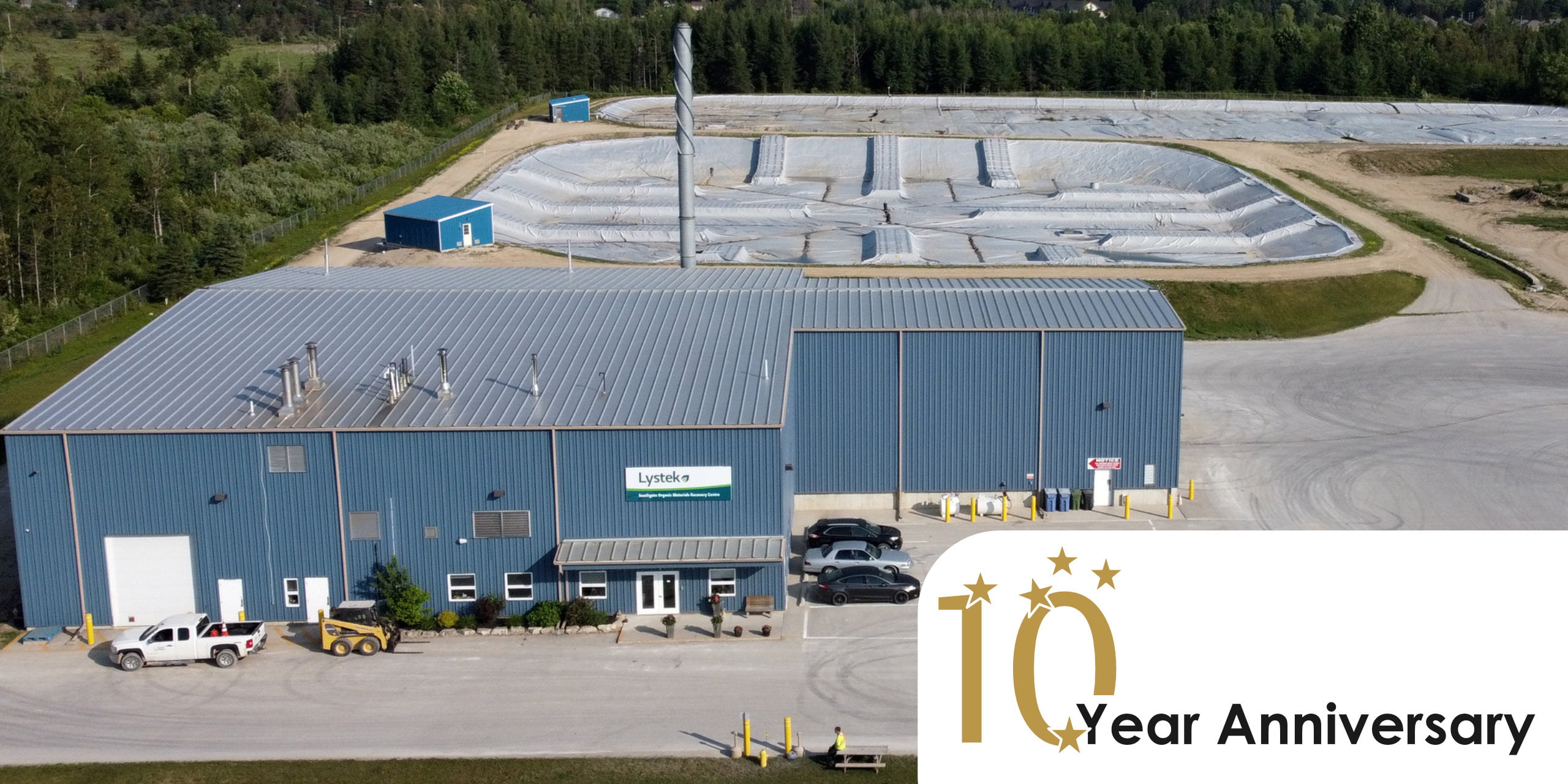 29 Jun

Lystek's Southgate Organic Materials Recovery Centre Celebrates Ten-Year Anniversary in Dundalk, Ontario

Attention: Environmental, agricultural, municipal, wastewater, recycling & waste management, reporters/editors

June 29th, 2023 | Cambridge, ON / Dundalk, ON | For immediate release – Lystek International's (Lystek®) flagship resource recovery operation, the Southgate Organic Material Recovery Centre (OMRC), celebrated their ten-year operations anniversary on June 21, 2023. This milestone was celebrated with many municipal and agricultural customers, local politicians, community and industry partners, team members, and Lystek's ownership team – The Tomlinson Group of Companies – in attendance on site.

"Truly, what an honor and remarkable achievement it is to be standing here celebrating the tenth anniversary of this amazing facility. I still remember, vividly, the first days we began work constructing this facility. My sincere appreciation and thanks to everyone who has been a part of the now global Lystek success story. It has taken a huge amount of effort and passion from innovative, sustainably minded people. Thank you sincerely for believing in Lystek, its technology, and its people. We look forward to many more years delivering sustainable solutions to Ontario agriculture." – Michael Beswick, Executive Vice President, Lystek International
"When we looked at Lystek nearly 15 years ago, it was a resource recovery technology that made sense, and it still makes sense today, but our achievements really come down to the team that we have. The individuals that are working here every day, they believe in the technology, they believe that it is going to make a difference, and we're behind them 100% because of that. I cannot thank them enough for the efforts that they have put in and for what they bring to the table. The team is what makes Lystek great, it's what makes the technology great, and it's what makes a highly valued, sustainable product for everybody to use!" – Ron Tomlinson, CEO, Tomlinson Group of Companies
"Marking 10 years of innovative and sustainable solutions in Southgate is most deserving of recognition. I am proud and excited to learn more about this Canadian developed technology that is operating in Bruce-Grey-Owen-Sound." – Alex Ruff, MSC, CD, Federal Member of Parliament, Bruce-Grey-Owen Sound
"Thank you all. It's clean, the floors are clean, everything is clean, and that gives you a high degree of confidence. It's really, really impressive and congratulations to you all for ten years of operations. Sincere congratulations to the whole team for all you're doing with such an important facility in the community." – Rick Byers, Ontario Provincial Member of Parliament, Bruce-Grey-Owen Sound
The Southgate OMRC, located in Dundalk, Ontario, in the Township of Southgate, began operations in 2013 and has serviced over 30 utilities and private generators over the last decade. These customers have included some of Southern Ontario's largest communities such as the City of Toronto, Halton Region, City of Hamilton, Region of Waterloo, City of Guelph as well as many other small to medium sized neighboring communities such as the towns of Orangeville, Shelburne, Arthur, and Durham among others.
The Southgate OMRC directly employs 13 people, including an Operations Manager, Operations and Maintenance Supervisors, Office Administrator, Compliance and Quality Control Technician, Truck Driver, and Facility Operators. The facility has had a significant economic impact locally with over $17 Million spent locally since 2013.

"Congratulations to Lystek for their participation in our community. They have been an outstanding corporate citizen in our community, and we are really fortunate to have them here. Thank you very much and congratulations on ten years of operations in the Township of Southgate!" – Brian Milne, Grey County Warden and Township of Southgate Mayor
The Southgate OMRC is approaching another major milestone this spring as they near 1,000,000 cubic meters LysteGro® fertilizer produced, sold, and applied to local agricultural customers. In 2022 alone, 150,000 m3 or nearly 40 million US gallons of LysteGro fertilizer was purchased by local farmers and applied to over 10,000 acres of farmland. With unprecedented commodity prices and exponentially rising mineral fertilizer prices, the OMRC's 2023 fertilizer supply has already sold out for the year. LysteGro hauling and application services are contracted locally to Highland Custom Farming and Saugeen Agri Services which directly employs an additional 10-15 individuals, depending on the time of year.

"Our LysteGro customers are faithful and big believers not only in the product but also in what we do here in sustainability. We all know how great the LysteGro product is but the other great product we provide is professional application services. The LysteGro program would not be where it is without the expertise of the Highland Custom Farming and Saugeen Agri Service teams. We look forward to another active season working with innovative farmers in the region who use LysteGro as a renewable nutrient resource and means to enhance overall soil health" – Simon Meulendyk, Operations Manager, Lystek International
"It's wild it's been 10 years already. We thought we were advanced when we started this program with Lystek 10 years ago but have grown to operate three advanced liquid injection applicators, including our newest grassland injector. We've continued to innovate to move more fertilizer and maximize the use of the product for our agricultural customers. Here's to many more years innovating with Lystek!" – Lloyd Brubacher, LysteGro Program Manager, Highland Custom Farms
"Congratulations to Lystek International on your 10-year anniversary of processing biosolids! It's great that you have been able to divert thousands of tonnes of biosolids away from landfills and turn them into usable fertilizer for farmland. LysteGro is a useful and innovative solution for sustainable farming, and it's exciting to see companies taking proactive steps toward environmental sustainability. Here's to many more years of collaboration and progress in this field!" – Harvey Martin, Owner and President, Saugeen Agri Services
About Lystek
Lystek International a division of the Tomlinson Group of Companies is North America's leading provider of Thermal Hydrolysis solutions for the sustainable management of biosolids and organics, servicing over 60 public and private customers. Lystek THP® converts biosolids and non-hazardous organic residuals into a high-solids liquid, multi-use product for full cycle resource recovery. These products and processes include the LysteMize® process for optimizing anaerobic digestion and biogas production; LysteCarb®, an alternative carbon source for BNR systems; and, LysteGro®, a nutrient-rich biosolids fertilizer. LysteGro is a high solids (13-16% total solids), Class A quality liquid biosolids fertilizer that is easily stored, transported, and applied using conventional liquid handling equipment and is regulated as a fertilizer product in Canada and the state of California. Lystek offers turnkey solutions including technology supply, design-build and installation services, regional processing solutions, and comprehensive LysteGro product management.
For more information, please contact: Lystek Head Office – 888-501-6508