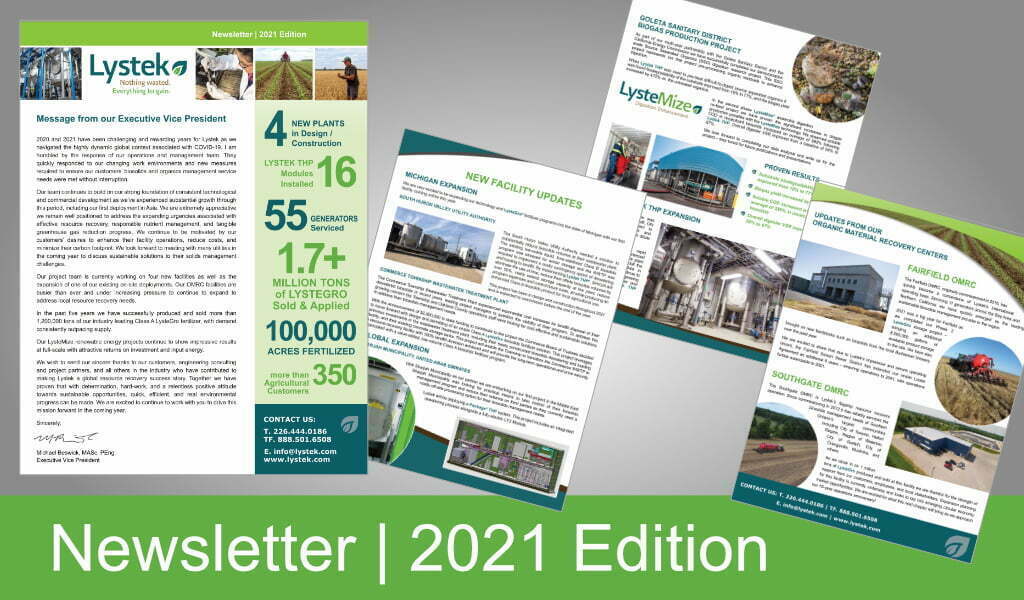 08 Dec

Newsletter 2021 Edition

2021 – As 2021 draws to a close we've been reflecting on the year and all that's happened. With the COVID-19 pandemic the last year has certainly had its challenges, but it has also been an extremely rewarding year as well! Check out our fall newsletter for a message from our Executive VP Michael Beswick and a snapshot of all the exciting activities Lystek has been up to.

Our project team is currently working on four new facilities, including our first global installation in Asia, as well as the expansion of one of our existing deployments. Our OMRC facilities in California and Ontario are busier than ever. In total, we now service over 55 generators globally. Our LysteMize renewable energy projects continue to show impressive results with attractive returns on investment and input energy. Demand for LysteGro fertilizer is increasing annually with over 1.7 Million tons sold and applied and we surpassed over 100,000 acres fertilized this year.

We look forward to meeting with many utilities and project partners in the coming year to discuss sustainable solutions to solids management challenges. Wishing everyone a happy and healthy holiday season!